Coming prepared.
At Delta Force Paintball Monarto we've seen it all. Our enthusiastic customers rock up with everything from nothing to everything. However, to be sure your day with us is as memorable as possible we do have a few suggestions and a few obvious rules.
Clothing
We recommend players wear their old, comfortable clothing. You should also bring a change of clothes for the end of the session as that will be a much nicer ride home for everyone.
Footwear
For your feet we recommend a light boot if you have them, but old trainers are by far the most commonly worn footwear and quite suitable.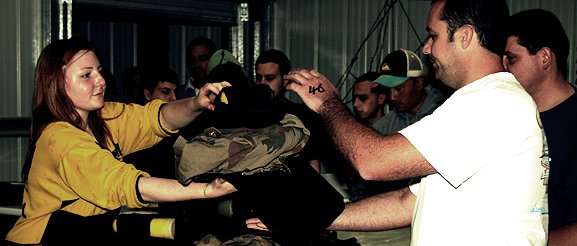 Food & Drink
You are welcome to bring along your own food and drinks (non alcoholic) or our on site kiosk can provide you with various cold drinks, chocolate snacks, and you can even order in a pizza for lunch.
Hands
A paintball hitting your tense hand while gripping the paintball gun can definitely make you wince for a moment. Paintball gloves are cheap and available to buy from the on site kiosk upon your arrival.
Extras
No point travelling to see us, having the most amazing, adrenaline charged morning of your life and then head home because you misjudged your trigger happy finger's appetite for thrills. If your budget allows, you should also bring some money for purchasing additional paintball supplies so your awesome morning can grow to be an awesome day. You may even choose to upgrade your pre-paid package before your session begins for even bigger savings.
PLEASE NOTE: Due to firearm laws, all Delta Force Paintball centres are drug and alcohol free zones. No illicit drugs or any alcohol may be brought to our centres at any time. Persons found under the influence of drugs or alcohol will not be allowed to enter by law. No paintball markers (guns) are stored on site.