Teamwork taught with fun.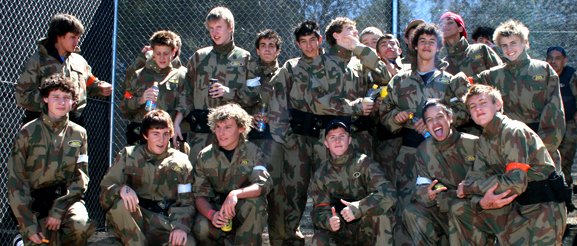 We might be biased but there is no better activity to entertain and motivate the kids than a day out paintballing. And there is no better and safer company to do this with than the world leader in paintball entertainment… Delta Force Paintball. Put simply, paintball is a fun day out that gets everyone involved.
It's exciting, fun and adventurous and the ideal activity for the adults to join in as well. Delta Force has a 100% safety record and an enviable reputation for organising incredible days out.
Whether they bring a few friends or the entire football team, they'll have a day to remember amongst our incredible movie-set game zones! With quality equipment to match, it is the perfect setting for a birthday party, team celebration or just a group of friends looking to have some fun. Our paintball centre can cater for groups of all sizes, so whether you bring just your class or the entire school or youth group you can rest assured we have what it takes to meet your group's requirements. Let all participants run wild in our paintball fields and watch their faces light up as they raise the flag on the game zone to bring victory to their team. Not only will they have an amazing day of paintball, but they'll also learn about great skills such as teamwork and leadership. No matter how large or small your group we're sure you'll all have a truly memorable experience because our professionally trained staff will keep a close watch and be on hand constantly offering advice and encouragement to those who need it.
In nearly three decades of operations we have entertained countless amounts of youth, school, community and sports groups around the world. We know what youth groups want and we have the facilities, game zones and equipment to provide you with the ultimate paintball adventure. Add your school or youth group to the long list of satisfied Delta Force customers and have an experience to remember.
Contact us today and get the (paint)ball rolling.
Please note: The minimum age to participate in paintball in South Australia is 10 years of age.