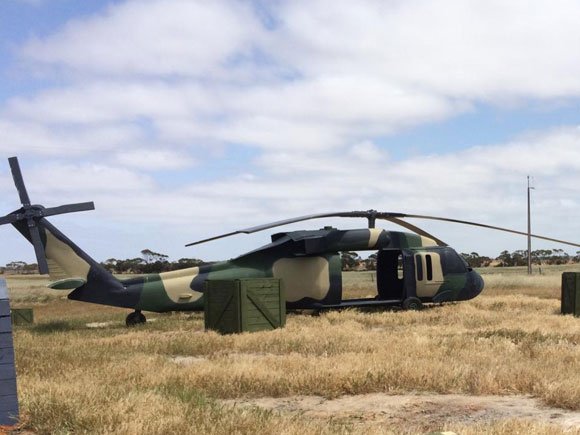 At 16 metres across the rotors, 17 metres in length and weighing in at a hefty 2 tonnes, the new addition to Delta Force Paintball Monarto is impressive and exciting. This is no backyard build job either. The full scale Australian Army Black Hawk helicopter is a professionally built, paintball-specific, movie-quality prop for the players to enjoy.
For many weeks the Delta Force build team have been constructing a sixth game zone to compliment the existing zones already bringing thousands of players each month to the paintball centre only 40 mins drive from central Adelaide. Suddenly the 1950's double decker bus on the London After the Apocalypse game zone or the jungle POW compound and the giant pyramid with it's sphinxes on the Tropic Thunder and Tomb Raider game zones are not the only thrilling props on offer here. Now the players will get to participate in missions that will see them avoiding armoured vehicles to get to the downed Black Hawk and save the surviving soldiers from being over-run by the angry militia groups closing on their position. With professionally trained paintball marshals helping to guide the paintballers through the new game zone scenario, this is well and truly the favourite paintball experience in South Australia.
The Delta Force designed and commissioned Black Hawk's build quality is such that this is the third helicopter of it's type Delta Force has installed across it's Australian paintball centre locations. Even the Australian armed forces have ordered one for their own training purposes. That's a serious recommendation when the same helicopter is currently used by defence personnel to train for specific combat situations.
The Black Hawk Down game zone not only features the full scale Black Hawk helicopter but also sports several tanks and other props. Combined they bring together the elements Delta Force Paintball needs to provide visiting players an environment that finds themselves immersed in the scenario- a legendary battle written about in books and portrayed in the movies. These huge helicopters are not just decoration. The paintball players can fight in and around the chopper, defending from within the flight deck or the cargo deck making the Black Hawk not only the new star in the Adelaide paintball scene but an instant favourite as well.